Roll over image to zoom in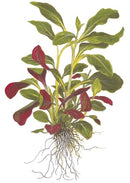 Lobelia cardinalis:
grows wild in Northern America. In the nursery this plant is cultivated in marshy conditions, forming dark-green leaves which are purple underneath. In aquariums the leaves turn a beautiful shade of light-green, with stems 10-30 cm tall and 5-10 cm wide. It needs intensive light to thrive. Widely used in Dutch aquariums in so-called "plant streets''. In open aquariums it grows above the water surface, where it forms very beautiful scarlet flowers and the leaves regain their colour. Can be used in garden ponds.
| | |
| --- | --- |
| Type: | Stem |
| Origin: | North America |
| Growth Rate: | Medium |
| Height: | 20-30+cm |
| Light Demand: | Low |
| CO2: | Low |
Tropica Potted plants are Pots that are brimming with plants and have lots of mass and healthy, well developed roots. Most pots can be divided into several portions which are planted separately.
Payment & Security
Your payment information is processed securely. We do not store credit card details nor have access to your credit card information.