Roll over image to zoom in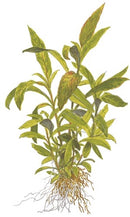 Hygrophila 'Siamensis 53B' : is a variety of Hygrophila corymbosa 'Siamensis'. This Hygrophila 'Siamensis 53B' forms an incredible amount of side shoots and becomes bushy relatively rapidly. Stems becomes 15-40 cm tall and 7-12 cm wide. Its beautiful bright green leaves are narrower than the regular 'Siamensis' and it can achieve red-brown leaves in good light conditions. An undemanding, fast growing plant that must be pruned frequently to maintain a bushy growth.

| | |
| --- | --- |
| Type: | Stem |
| Origin: | Asia |
| Growth Rate: | High |
| Height: | 15-30+cm |
| Light Demand: | Low |
| CO2: | Low |
Tropica Potted plants are Pots that are brimming with plants and have lots of mass and healthy, well developed roots. Most pots can be divided into several portions which are planted separately.
Payment & Security
Your payment information is processed securely. We do not store credit card details nor have access to your credit card information.