Roll over image to zoom in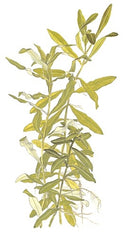 Hygrophila polysperma: from South-East Asia is one of the hardiest aquarium plants available. Stems becomes 25-40 cm and 4-8 cm wide. It is particularly good for beginners because it grows in almost all conditions. It normally grows so fast that it is important to prevent it crowding out other plants. The shoots must be pinched out regularly. Leaves lying on the surface form small new plants. Hygrophila polysperma varies considerably in leaf shape and colour, depending to some extent on the light supplied.

| | |
| --- | --- |
| Type: | Stem |
| Origin: | Asia |
| Growth Rate: | High |
| Height: | 20-30+cm |
| Light Demand: | Low |
| CO2: | Low |
Tropica Potted plants are Pots that are brimming with plants and have lots of mass and healthy, well developed roots. Most pots can be divided into several portions which are planted separately.
Payment & Security
Your payment information is processed securely. We do not store credit card details nor have access to your credit card information.