Roll over image to zoom in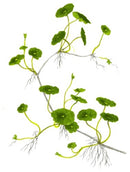 Hydrocotyle verticillata: Unlike other Hydrocotyle species, this plant retains its trailing growth form. Verticillata originates from America and becomes 3-7 cm tall. Optimum growth is only achieved in strong light and soft, slightly acidic water. It does not need to be rooted, but can be used as a floating plant. Hydrocotyle verticillata is definitely a foreground plant which can also be used in garden ponds. It can also be used as an indoor plant if the soil is kept moist.


| | |
| --- | --- |
| Type: | Stem |
| Origin: | South America |
| Growth Rate: | Medium |
| Height: | 3-10+cm |
| Light Demand: | High |
| CO2: | Medium |
Tropica Potted plants are Pots that are brimming with plants and have lots of mass and healthy, well developed roots. Most pots can be divided into several portions which are planted separately.
Payment & Security
Your payment information is processed securely. We do not store credit card details nor have access to your credit card information.