Roll over image to zoom in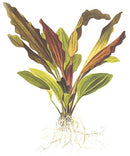 Echinodorus 'Rose':
Large motherplant, grown in a 9 cm square pot.
This beautiful plant is a hybrid between Echinodorus horemanii 'Red' and Echinodorus horizontalis. It was first produced in 1986 by Hans Barth in Dessau and becomes 25-40 cm tall and a rosette from 15-25 cm wide. New underwater leaves are a beautiful pink, and initially the leaves have red-brown spots. A nutritious bottom promotes growth, but otherwise Echinodorus 'Rosé' is undemanding and thus an excellent plant for beginners.
| | |
| --- | --- |
| Type: | Rosulate |
| Origin: | Cultivar |
| Growth Rate: | Medium |
| Height: | 20-30+cm |
| Light Demand: | Low |
| CO2: | Low |
Tropica Potted plants are Pots that are brimming with plants and have lots of mass and healthy, well developed roots. Most pots can be divided into several portions which are planted separately.
Payment & Security
Your payment information is processed securely. We do not store credit card details nor have access to your credit card information.