Roll over image to zoom in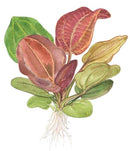 Echinodorus ''Reni':

is a well-known cultivar characterised by being amongst the smallest of the red Echinodorus, 15-40 cm tall and a roset from 15-25 wide. The new leaves of the plant are reddish-brown to deep beetroot in colour. It can be used in small aquariums and is unpretentious. The plant requires a lot of light and nourishment for optimal colour development.


| | |
| --- | --- |
| Type: | Rosulate |
| Origin: | Cultivar |
| Growth Rate: | Medium |
| Height: | 15-30+cm |
| Light Demand: | Low |
| CO2: | Low |
Tropica Potted plants are Pots that are brimming with plants and have lots of mass and healthy, well developed roots. Most pots can be divided into several portions which are planted separately.
Payment & Security
Your payment information is processed securely. We do not store credit card details nor have access to your credit card information.