Roll over image to zoom in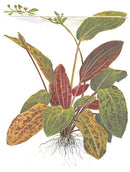 Echinodorus 'Ozelot':
Large motherplant, grown in a 9 cm square pot is a decorative hybrid between Echinodorus schluteri 'Leopard' and Echinodorus 'Barthii'. 20-50 cm tall and a 20-40 cm wide rosette. Naturally, it is the elliptical black spots on the red-brown leaves that have given this plant the name 'Ozelot'. The spots are darkest on the youngest leaves, and unlike many other spotted Echinodorus, 'Ozelot' retains its spots even at low light intensity. It is an undemanding, good plant for beginners.

| | |
| --- | --- |
| Type: | Rosulate |
| Origin: | Cultivar |
| Growth Rate: | Medium |
| Height: | 20-30+cm |
| Light Demand: | Low |
| CO2: | Low |
Tropica Potted plants are Pots that are brimming with plants and have lots of mass and healthy, well developed roots. Most pots can be divided into several portions which are planted separately.  
Large motherplant, grown in a 9 cm square pot.
Payment & Security
Your payment information is processed securely. We do not store credit card details nor have access to your credit card information.