Roll over image to zoom in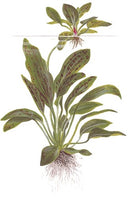 Echinodorus 'Ozelot Green':

A beautiful, dark-green variety of Echinodorus 'Ozelot', 20-50 cm tall and a 20-40 cm wide rosette. The dark spots form a bigger contrast on the light leaves. The leaf margin is fluted. A nutritious bottom promotes growth. It is an easy and highly recommended plant, which thrives in almost all conditions.


| | |
| --- | --- |
| Type: | Rosulate |
| Origin: | Cultivar |
| Growth Rate: | Medium |
| Height: | 20-30+cm |
| Light Demand: | Low |
| CO2: | Low |
Tropica Potted plants are Pots that are brimming with plants and have lots of mass and healthy, well developed roots. Most pots can be divided into several portions which are planted separately.
Payment & Security
Your payment information is processed securely. We do not store credit card details nor have access to your credit card information.