Roll over image to zoom in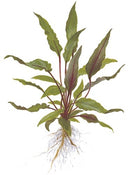 Tropica DecorRock Cryptocoryne beckettii 'petchii':
is a small variety of Cryptocoryne beckettii from Sri Lanka, which has beautiful, slightly fluted leaf margins, 10-15 cm long. Leaves become dark olive-brown with violet underside. Like many other Cryptocorynes, the leaf colour and shape depends largely on environmental conditions in the aquarium.
| | |
| --- | --- |
| Type: | Rosulate |
| Origin: | Asia |
| Growth Rate: | Medium |
| Height: | 10-15cm |
| Light Demand: | Low |
| CO2: | Low |
Tropica DecorRock is a lava rock with self attached Cryptocorynes, fully grown and hardy, right from the start.  Easy to place on the bottom layer.
Payment & Security
Your payment information is processed securely. We do not store credit card details nor have access to your credit card information.