Roll over image to zoom in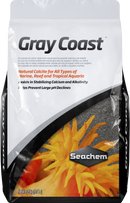 Seachem Gray Coast is a natural calcite specifically designed for all kinds of marine, reef, and tropical aquaria. This 3.5kg/7.7lbs bag contains a high proportion of magnesium to assist in stabilizing calcium and alkalinity, while helping to prevent large pH declines. Its specially formulated composition will also maximize the color of your marine fish.
Simply rinse before use to remove any residual dust.
When adding water to aquarium, fill slowly to avoid disturbing GrayCoast™ substrate bed. Place a bowl in the aquarium and add water directly to the bowl, allowing water to overflow softly on to the gravel bed. Initial cloudiness is normal. To remove cloudiness, use mechanical filtration (such as filter floss). Use Clarity™ to accelerate clearing.
Payment & Security
Your payment information is processed securely. We do not store credit card details nor have access to your credit card information.