Roll over image to zoom in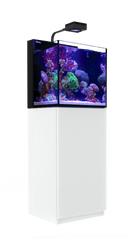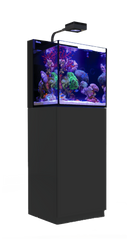 Fully featured 75 litre/20 gal, Plug & Play® reef system
The MAX® NANO combines a contemporary, rimless design with state of the art technology. This fully-featured REEF-SPEC® system provides everything necessary in order to enable you to enjoy the beauty and diversity of your own piece of thriving coral reef, rather than worrying about component selection, suitability and compatibility.
The all new MAX® NANO features the very latest in reef-keeping technology including Red Sea's all new ReefLED™ 50 lighting, REEF-SPEC® filtration and circulation systems, an Automatic Top-Off unit and an easy access power center.
Reef safe ReefLED 50™ lighting The MAX NANO incorporates the all-new Red Sea ReefLED™ 50 lights which are designed to ensure optimal coral growth and maximum rendition of their vibrant colors.
At the heart of the unit is a compact Led array that provides a reef-safe range of REEF-SPEC light through a single REEF-SPEC Blue (23,000 Kelvin) channel that consists of an optimum combination of ultraviolet, violet and blue LEDs and an 8,000 Kelvin white channel. In addition, it has a separate dedicated 3W Moonlight channel to provide the low levels of light for reef-safe nighttime viewing.
The ReefLED includes a single optical-glass, hollow lens that creates a homogenous light giving a dramatic coral coloration and a gentle shimmer throughout the aquarium.
ReefLED is controlled by Red Sea's ReefBeat® App which provides a wide range of easy to use functions such as random clouds, acclimation for new installations and a lunar cycle for the moonlights.
Red Sea MAX NANO Features 
System water volume combined aquarium and sump: 75 L (20 gal)
Aquarium volume of display tank: 62 L (16.5gal)
Rear Sump volume: 13 L ( 3.5 gal)
Aquarium glass thickness: Ultra-clear front and side panels 8 mm (5/16")
Removable Surface Skimmer
LED Lighting system: 1 unit ReefLED 50
Lighting control: Wi-Fi based system compatible with all iOS, Android, and Wi-Fi enabled Mac or PC
Total circulation lph (gph): 950 (240gph)
Protein skimmer water flow 180 Lph (46gph), Air flow 60 Lph (15gph)
Integrated power center: Individual on/off switches for circulation and skimmer pumps
Mechanical filtration: 1 standard 225 Micron filter bags (optional 100 micron bags)
Filtration media: Red Sea REEF-SPEC® Carbon 100g (3.5 oz)
Automatic Top-Off: ATO with 1.5L freshwater reservoir
Cabinet: Marine Spec cabinet with weatherproof doors
Length Display tank: 45 cm (18″)
Width Display tank: 45 cm (18″)
Height Display tank: 45 cm (18″)
Total system height (excluding LED light unit): 132 cm (52″)
Payment & Security
Your payment information is processed securely. We do not store credit card details nor have access to your credit card information.