Roll over image to zoom in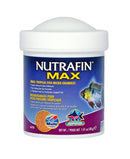 Nutrafin Max Small Tropical Fish Micro Granules is a nutritious and highly palatable, slow-sinking fish food that provides the ultimate in ornamental fish nutrition. The bite-sized granules sink slowly to allow tropical fish to eat at their preferred feeding level.
Naturally coloured by its ingredients, the fish food contains multi-vitamins, natural colour enhancers, and Advanced Yeast Extract, which helps improve digestion and allows optimal nutrient absorption.
Payment & Security
Your payment information is processed securely. We do not store credit card details nor have access to your credit card information.