Roll over image to zoom in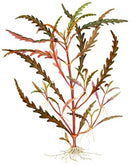 Hygrophila pinnatifida:
originates from India. It obtains brown, patched leaves on the surface with a distinctive burgundy colour underneath. It creates horizontal side shoots and the top shoots should be pinched out in order to maintain compact and attractive growth. The horizontal side shoots easily attach to both wood and rocks. Growth is moderate, stems 15-40 cm tall and 10-20 cm wide, and the colour is attractive when planted in small groups with a plain background. Intense lighting ensures compact growth due to the plant's slow to medium growth rate.

| | |
| --- | --- |
| Type: | Stem |
| Origin: | Asia |
| Growth Rate: | Medium |
| Height: | 10-20+cm |
| Light Demand: | Medium |
| CO2: | Medium |
Tropica 1-2-Grow plants are very young plants cultivated and delivered directly from Tropica's laboratory. The plants are guaranteed to be free from snails, algae and pesticides and therefore are totally harmless for sensitive shrimp and fish.
Payment & Security
Your payment information is processed securely. We do not store credit card details nor have access to your credit card information.