Roll over image to zoom in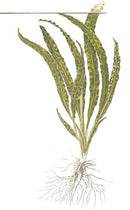 Cryptocoryne crispatula var. balansae:
is from Southern Thailand where there are limestone mountains, and the water can be very hard. Like many other Cryptocorynes it needs to acclimatize before growth starts in earnest. Leaves becomes 20-60 cm long and the single roset plant becomes 15-20 cm wide. 
| | |
| --- | --- |
| Type: | Rosulate |
| Origin: | Asia |
| Growth Rate: | Medium |
| Height: | 20-30cm |
| Light Demand: | Low |
| CO2: | Low |
Tropica 1-2-Grow plants are very young plants cultivated and delivered directly from Tropica's laboratory. The plants are guaranteed to be free from snails, algae and pesticides and therefore are totally harmless for sensitive shrimp and fish.
Payment & Security
Your payment information is processed securely. We do not store credit card details nor have access to your credit card information.