Roll over image to zoom in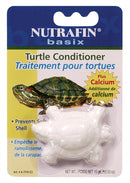 Nutrafin Basix Turtle Conditioner helps keep water from going acidic while the calcium that is released as the block dissolves aids in preventing soft shell.


Ingredients :
Calcium sulphate (24%), magnesium sulphate, sodium chloride, thiamine hydrochloride.

Guaranteed Analysis :

Calcium 240,000 mg/kg
Magnesium 739.5 mg/kg
Sodium / Natrium 590.25 mg/kg
Thiamine / Thiamin / Thiamine
2 100 mg/kg
Payment & Security
Your payment information is processed securely. We do not store credit card details nor have access to your credit card information.